Buy Sacred Geometry Art, Posters & Limited Edition Prints
​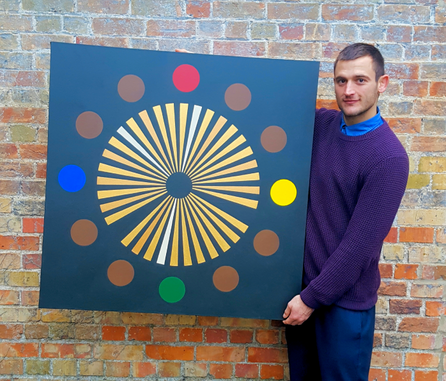 ​Stargazer - Original Painting

Grey Series, 2014

Acrylic on Box Canvas

100 x 100 x 5cm

£ P.O.A
One of the reasons I'm selling Stargazer is to start the process of unattaching myself from my paintings, as I will be selling a large portion of my collection at the
Oxford International Art Fair
this February. Me and the family are spending a few months in Portugal this summer so it's time to start downsizing.
People keep telling me I need to write more to explain about my work. This was the same feedback I struggled with for my school A-level Art - I always enjoyed the creating and not so much the explanation. My work is very intuitive, based on the ineffable, so it is only natural I am reluctant to try and describe it!
Stargazer is essentially a self-portrait, although I wasn't aware of this at the time of creating it. With hindsight it seems that I was capturing my current state of consciousness.
The golden rays emanating from the centre are composed of three different intensities, representing the different phases that all things can be divided into.
Beginning, middle, end.
Birth, maturation, death.
In this case, the phases refer to learning, or expanding awareness.
There are certain rays missing altogether, which represent "unawareness" or not-knowing - an important reminder to stay grounded and humble, which will provide the necessary conditions for further growth.
The "planets" around the inner sphere (not circle), point towards our interconnected relationship with the "external" world - and reminds us that we are never alone.
If I had to guess what would happen to this painting if the centre sphere was fully filled out in all directions with the most intense golden rays, I would say that all the surrounding planets would also be glowing a brilliant gold.
Enjoy :-)
Nick x
---
​
Limited Edition Prints - Grey Series & Rainbow Series
★ Limited run of 100 prints only of each Series
★ Framed - quality deep wooden white, high-gloss picture frame
★ High quality paper - Sirio Ice White (300 gsm)
★ A3 landscape dimensions (30 x 42cm)
★ Each print is embossed, hand-signed and numbered
★ Authenticity Hologram on back
★ Includes delivery: wide shipping tubes, with tissue paper
---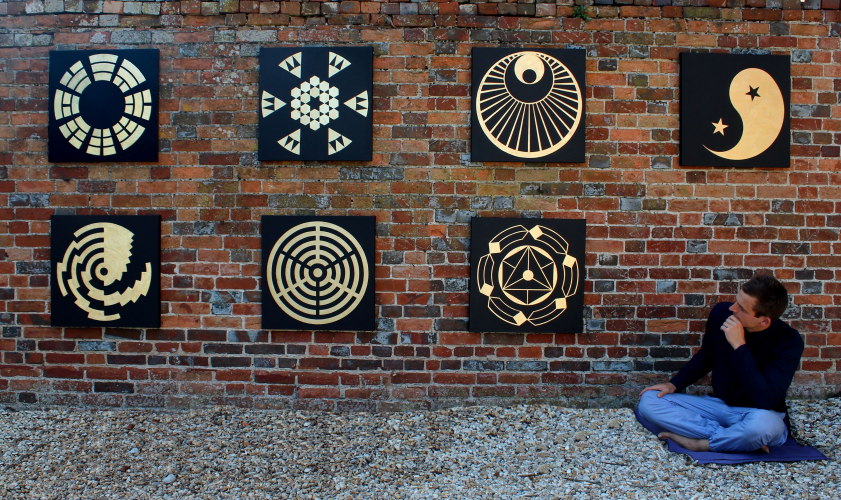 Black & Gold Series
All Seven Originals, 2017
Gold Leaf & Black Gesso on Box Canvases
60 x 60 x 5cm
£ P.O.A.
---
For purchases and to enquire about prices for all other original artwork, contact
info@raisedspirit.com
Orders dispatched within 3 working days
Delivery times: UK 2-3 days, EU 3-5 days, International 5-7 days