Click link below for details on Nick's 2017 Intensive Workshops (more will be added soon)
Health
- Wednesdays 20.00-21.30
at the Watlington Memorial Club.
The first class is free for all newcomers, £10/class thereafter. In the summer we train outdoors, all levels are welcome.
20 High St, Watlington, OX49 5PY
- Wednesdays 11.30-12.30 at the
Bisham Abbey National Sports Centre
£6.30/class, suitable for all levels. Pay at reception.
Bisham Village, Marlow Road, Marlow, SL7 1RR
Martial Arts
- Tuesdays 18.30-19.30
at the Watlington Town Hall.
£10/class, suitable for all levels.
Couching Street, Watlington, OX49 5QF (building at the beginning of the High St)
To arrange a private or small group session, contact 07505 033 568.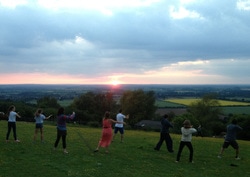 ​Nick has been interviewed by BBC Radio about the health benefits of Tai Chi, and has run lunchtime classes for companies in Henley and Oxford. He is currently working alongside South Oxfordshire District Council in their attempt to improve the health of their residents via their
Go-Active
campaign.
​
"Nick is an incredibly intuitive Tai-Chi instructor and has a deep understanding of the internal energy systems.
Nick's teachings have helped me realise the power of meditation, improve my relaxation and enhance my application of martial arts.
He has an ability to blend a variety of healing practices and ancient philosophies into a digestible format."

David Boycott-Brown - Women's Olympic 2012 Water Polo Squad strength and conditioning coach, and director of Elite Athletes UK.