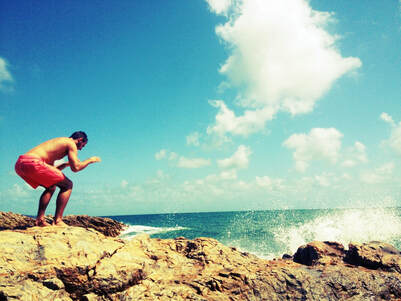 ​I had a life changing experience at the age of 26 when I took part in an ancient indigenous Shamanic ceremony of the Amazon. From that day on, I have been able to
receive knowledge / ideas / concepts via images / shapes / patterns which are often dynamic. I can only describe the experiences as witnessing the transformation of energy. Painting helps me become more centred, and
increase my understanding.


I love to point others towards patterns which resonate with them.
What does Sacred Geometry mean to me at this phase of my life? I believe it
reveals the way that recurring patterns manifest throughout all the levels and realms of creation from the micro-cosmic to the macro-cosmic, and everything in between. I believe Geometry is intrinsic within the fabric of Nature itself, and the proportions that we find governing Nature are also the proportions that govern our consciousness.
​
Many of the great minds like Plato and Da Vinci understood that the study of Sacred Geometry was a way of developing your consciousness.
Nick
x
​
---
Vice Documentary
|
Hitting The Canvas With Nick Osipczak

​228,000 views
---
​​Excerpt Taken From An Interview By FlowVibration
"Ayahuasca was the turning point that led me into both Sacred Geometry and Tai Chi. It was a life-changing experience. It was from that that I knew what the saying 'everything is one' meant and could feel, see, experience energy transforming, knowing how energy interacts, regardless of the perceived physical barriers. I started having thoughts and seeing concepts in terms of shapes and patterns... and that's when I started painting them.
For me, it comes down to connectivity; how in harmony and flow you are with things, the more you are in flow, the more connected you are, the more you can appreciate and see the beauty in things. Then there's the opposite end of the spectrum, how isolated you feel, that 'me versus the world feeling', a lack of love and connection. On one end of the spectrum, you have health and vibrancy, on the other, anxiety and depression.
​Movement is synonymous with life. There's a lot of stagnation in the world; people are sitting too long, staying in the same jobs too long, so we need to move around, let all the cells of the body have their full range of expression."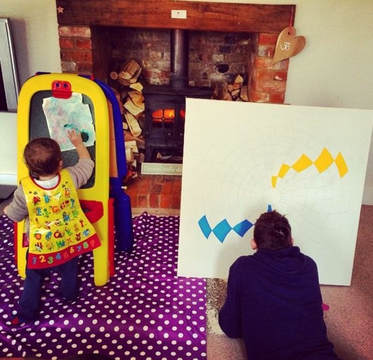 We are all creators and co-creators
---
---

NEWS

March 2018 - Hemp paper prints coming soon
Jan 2018 - I will be exhibiting my Sacred Geometry Art at the
Oxford International Art Fair
, February 23rd-25th